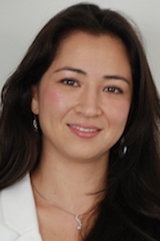 President's Message
Shannon Connolly, MD, FAAFP
Spring greetings from the Los Angeles Academy of Family Physicians! Academy members have been very busy this season with advocacy work, educational events, and community outreach. Here are just a few highlights of recent and future events.
Advocacy:
As Washington recently announced, the Affordable Care Act will be the "law of the land for the foreseeable future." But what now for California? Are we done? Not even! We still have so much work to do in improving our existing health care system so we can better serve our patients. I am delighted that so many members of our chapter attended the CAFP's All Member Advocacy Meeting in March and took time out of their busy schedules to meet with state legislators to talk about what CA needs for a healthier future. I urge you to continue building upon those important connections with your elected officials, and continually engaging in advocacy. Start with getting yourself informed! I recommend that you take a look at some health bills currently in the CA legislature, such as SB-562, Senator Lara's "Californians for a Healthy California Act"
If you are eager to get even more involved in health policy advocacy on a national level, look into the AAFP Family Medicine Advocacy Summit in Washington DC this May 22-23rd. This two-day event trains family doctors from around the country on how to become engaged in the legislative process. More information here.
Student Education:
The LA Academy recently provided grant funding and faculty for the 2017 CAFP Procedural Workshop. This day-long event held in February at UC Irvine provided medical students from multiple Southern CA schools with exposure to family medicine and the myriad skills we use daily in our work. Faculty taught students about laceration repair, paps and pelvic exams, joint injections, IUD insertions, EKGs, and dermoscopy. Thank you to all who volunteered their time!
In March, the Academy also sponsored UCLA School of Medicine's annual Project HEAL, a student-led community health fair that addresses some of the most important health needs in East LA while engaging students and residents in community outreach. For many students, events like these are their first experiences with family medicine as a potential career path.
Upcoming events:
I am very pleased to announce a new partnership between the Los Angeles Academy of Family Physicians and the Los Angeles Department of Public Health (DPH) to provide ongoing educational events for our members on important public health topics. Our first event will be a webinar (the first we've ever had!) on outpatient antibiotic prescribing guidelines, and the next two events will be in-person CME presentations at our membership dinners: one on the Outpatient Antibiotic Stewardship and one on how family doctors can provide Pre-Exposure HIV Prophylaxis to their patients. I encourage you to attend them all!
DPH is also pleased to announce a new website designed to help consumers take charge of their health by providing information about evidence-based medical recommendations, how to find accurate medical information about complementary and alternative medicine practices, and how to avoid health care scams. Please share this resource with your patients: http://publichealth.lacounty.gov/hccp/
As you can see, we have a lot going on! Most of our events and activities are ideas that come from our members. Please continue to provide us with feedback on additional events that you would like to see.
Best,
Shannon Connolly