Governor Signs 14 of 15 CAFP-Supported Bills in 2017
This year, 14 of 15 CAFP-supported bills were signed by Governor Jerry Brown, including bills that address pharmaceutical pricing, reduced physician administrative burden, improved CURES functionality and student loans. Last weekend, the Governor signed three of the four remaining CAFP-supported bills:
SB 223 (Atkins) – This bill, known as the Health Care Non-Discrimination Act, will require all health plans in California to comply with non-discrimination measures, strengthen consumer protections and align language access standards regardless of future changes to the Affordable Care Act.
AB 841 (Weber) – This bill would prohibit a school, school district or charter school from advertising food or beverages during the schoolday and from participating in a corporate incentive program that rewards pupils with free or discounted foods or beverages that do not comply with nutritional standards.
SB 536 (Pan) – CAFP supported SB 1006 (Wolk) last year, which created and funded a Firearm Violence Research Center within the UC system. SB 536 would require the Department of Justice to share information relating to gun violence restraining orders with researchers at the newly established Center.
Of all the CAFP-supported bill that reached the Governor's desk, he only vetoed one: AB 447 (Gray) would have added continuous glucose monitors as a benefit under the Medi-Cal program.
Preliminary Information on Song-Brown Applications
One of CAFP's biggest successes during the first year of the 2017-18 Legislative Session was our defense of the $100 million State Budget investment in the Song-Brown Physician Training Program. Next year, more than $33 million will be allocated to primary care residency programs serving underserved patients. The demand for funds is significant and CAFP hopes to augment these funds in the coming years. Below is a list of applications received for the four different funding pools. Applicants can apply in more than one category.  Grant winners will be announced at the Song-Brown Funding Meeting November 28 and 29, 2017.
The Council on Graduate Medical Education (COGME) recommends that at least 40% of medical graduates enter primary care, but the proportion is now only 32% and falling, and this figure does not account for "leaking" of primary-care graduates into non-primary-care areas such as hospitalists & subspecialists. Medical training programs (funded by taxpayers through Medicare) are failing to produce the medical workforce that the US needs to achieve optimal health outcomes at affordable cost. All other industrialized countries have much more robust primary-care sectors (~50%), allowing them to provide universal care at much lower cost. (Better quality, universal care, decreased costs!).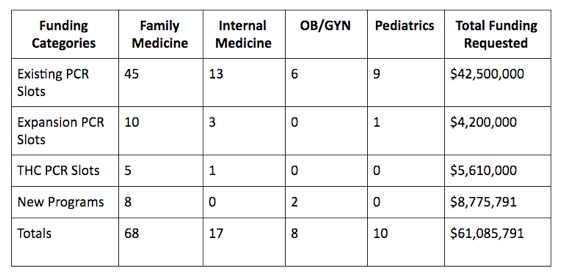 Major Federal Primary Care Programs in Jeopardy
Funding expired on September 30 for several important federal programs that support Family Medicine and patients: the Children's Health Insurance Program (CHIP) for uninsured children in low-income families not eligible for Medicaid; Primary Care Teaching Health Centers in community-based residency programs; the National Health Service Corps providing primary care services in a Health Professional Shortage Area in return for loan repayment & scholarships for at least 2 years' service, and Community Health Centers providing care to hundreds of underserved communities. CAFP urges contacting your US representative ASAP in support of these programs: https://www.house.gov/representatives/find/